Sony lens mounts A and E
Sony produces cameras with two lens mount systems: A-mount and E-mount. A-mount is standard on Sony unique Translucent Mirror type camera bodies, while E-mount is used on mirrorless bodies.

What is the difference between an A-mount and an E-mount?
For interchangeable lens cameras produced by Sony, there are two types of mount standard: A-mount and E-mount.
The mount is the part that joins the camera's body and the lens. To shoot images, attach the lens to your camera's lens mount and let the lens and the body recognize each other.
A-mount (ILCA-xx, DSLR-Axx, SLT-Axx)
Mount standard adopted on models that have a mirror or a translucent mirror.
E-mount (ILCE-xx, NEX-xx)
Mount standard adopted on mirrorless models.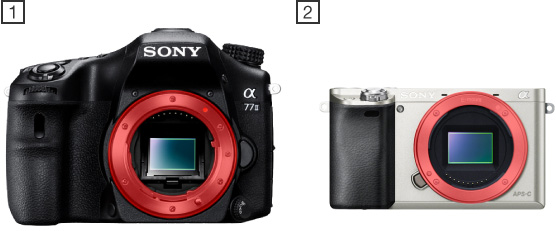 [1]Mount on an A-mount body
[2]Mount on an E-mount body
Lens mount differences
A-mount and E-mount features
A-mount cameras with Sony Translucent Mirror Technology offer the advantages of full-time phase-detection autofocus. The short flange back distance of mirrorless E-mount models makes it possible to design compact, high-performance bodies and lenses that offer outstanding handling and mobility.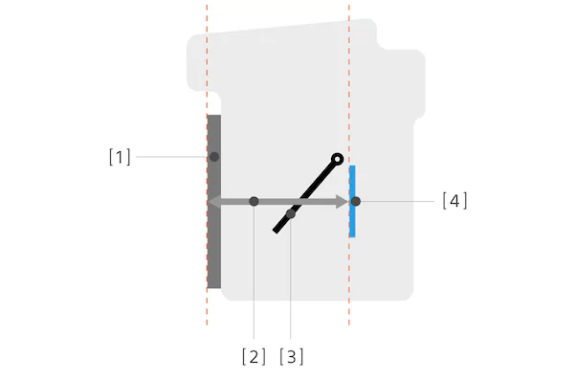 A-mount
[1] Lens mount [2] Flange back distance [3] Translucent Mirror [4] Image sensor plane
E-mount
[1] Lens mount [2] Flange back distance [3] Image sensor plane
Image sensor size
Full-frame and APS-C formats
Both A- and E-mount cameras have full-frame and APS-C sensors options. Among the many sensor sizes in common use, full-frame is considered to be a large format while APS-C is a medium format. Both are popular for their individual advantages.
* All measurement is approximate
Lens and sensor combinations
Sony offers full-frame and APS-C lenses with image circles that cover the corresponding sensor formats. Although lenses are usually chosen to match the sensor format, different combinations can be used to vary the crop area and angle of view when wider coverage or extra telephoto reach is desired.
Full-frame Camera